Fostering a cleaner and greener environment with Vrobal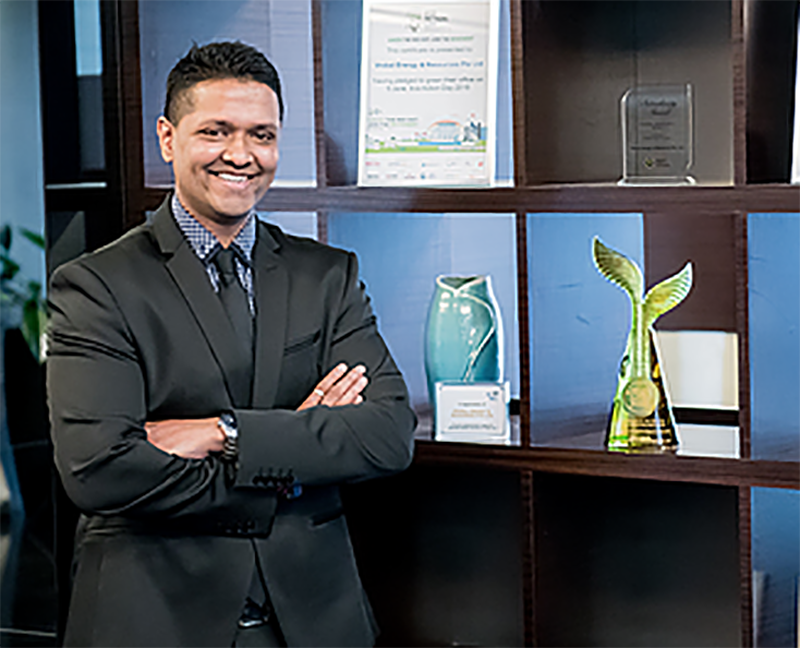 According to a study conducted by the National Environment Agency (NEA) from April 2016 to October 2017, aimed at identifying challenges in the nation's electronic waste (e-waste) management, it was found that 60,000 tonnes of e-waste is generated in Singapore each year. This is approximately equivalent to the weight of 220 Airbus A380 airplanes. In tandem to the rising standards of living, there has been a growing demand for electronic gadgets and appliances around the world. A study released by the United Nations University, a global think tank and postgraduate teaching organisation in Japan, found that the highest generation of e-waste is attributed to Hong Kong (21.7 kg), followed closely by Singapore (19.95 kg) and Taiwan (19.13 kg).
With only one landfill in the island city-state, the Singapore government has been actively reviewing best practices adopted in foreign countries and also, mulling over the implementation of more stringent policies to curb the pressing issue of improper channeling of e-waste. As stated in the study commissioned by NEA, e-waste recycling will help build a more sustainable environment for our residents in terms of conserving our Earth's finite resources and eliminating harmful carbon emissions.
Vrobal Energy & Resources Pte Ltd (Vrobal) is hence a key player in helping companies eliminate the environmental and carbon impact of their metal bearing waste. Headquartered in Singapore, with offices across 3 continents, Vrobal is a wholly owned waste management and recycling company. It is a leading specialist in the trading and processing of precious and non-precious metals from waste. With a noble mission of ensuring that zero waste goes to landfill, Vrobal is committed to preventing pollution and reducing our impact on the environment. Owning one of the largest refineries in Singapore, the company is dedicated to help its partners create and maximize value from waste; while also, offering consulting and innovative technological solutions that help clients maximize the extraction of metal from waste.
CARING FOR THE COMMUNITY
Holistic entrepreneurship encompasses business success alongside service to the community at large. Under Mr Sumesh's steadfast leadership, Vrobal actively contributes to the society by participating in a diversity of charitable projects such as fund raising for tortured dogs in China, donating to those in need and also volunteering at homes for the aged and neglected children. Vrobal has been donating to causes that include the welfare of senior citizens, chronically ill children and supplying meals to people in need. On a voluntarily basis, employees also work with Willing Hearts to prepare meal boxes, which are distributed to the homes of the needy in Singapore.
"With Vrobal setting up one of the largest precious metal refineries in Singapore this year, I have strived further with my vision of giving back to the country. I have dreams of setting up an NGO to help those in need, be it in Singapore or anywhere else in Asia. My employees are also deeply involved in this meaningful project, and this gives us a sense of pride to be part of Vrobal," shared Mr Sumesh.
HARNESSING PEOPLE POWER
At Vrobal, teamwork is one of the core values and principles that Mr Sumesh holds dearly. He strongly believes in fostering a company-wide team spirit that promotes meaningful collaboration and active participation that will lead to organisational success. To achieve this modest goal, Vrobal respects each individual and draws strength from equal opportunity and diversity, while also supporting the fostering of personal and professional growth and development of all employees.
"Teamwork is important to all organisations. Staff-bonding activities and trainings are regularly conducted to keep employees motivated and in line with the company's goals. It is important that we, as a whole, progress together with a common goal. We treat the well-being of our employees as the key commodity for our organisation's future. In addition, we have always encouraged regular communication with our staff and when any workplace grievances arise, we take immediate action by counseling the parties involved and resolving the issues," said Mr Sumesh.
"Business leaders need to take the lead in driving better organisational HR practices. When we provide the right training and benefits to our employees, they will be more efficient, productive and motivated. Our employees are sufficiently trained and knowledgeable in their areas of practice as they regularly attend internal and external trainings to upgrade their skill sets," Mr Sumesh added.
With an international presence, spanning across 3 continents, Vrobal has adopted a well-organised HR system, which tracks all its employees' performance and relevant issues. The waste management company has also implemented some strategies to manage challenges arising from the global workforce and to ensure effective employee engagement. Mr Sumesh shared that Vrobal has a weekly report system for all employees where they can send confidential emails directly to him.
"This email system is for the management to gather employee feedback on what we can do better as a company. It is also meant for them to share their personal issues at work with me. As the CEO, I will look into these issues personally and will make changes accordingly based on majority views and discussions with the management team," expressed Mr Sumesh.
FORGING AHEAD WITH INNOVATION
Vrobal's key differentiating factor is that it develops proprietary products and processes to help its partners maxmise metal from their waste. Through constant research and development efforts, the company's innovations include the designing of a Precious Metal Recovery System (PMR Cell) and extraction processes such as pyrometallurgical and hydrometallurgical processes, and breakthrough techniques for non-ferrous extraction that minimises metal losses in slag.
"We use pyrometallurgical and hydrometallurgical techniques that are distinguishable from other processes, such as smelting and calcining, which involve chemical transformation to the raw material. We have also devised a revolutionary Precious Metal Recovery System that applies simple and economical methodology to reclaim gold and other precious metals from processing rinse water and drag out tanks. The proprietary resin extracts precious metals that current recovery systems do not capture from waste processing. It is uniquely designed for PCB and electronic component manufacturing, jewellery and other precious metal plating industries," said Mr Sumesh.
Having a strong focus on customer service satisfaction and production quality and efficiency, Mr Sumesh shared that Vrobal had integrated the CMS (Content Management System) system, which enables all staff to view or track its shipment schedules and processes. This system will also allow them to identify materials that are moving across the region. Furthermore, the internationalised company had also installed a polycom system to communicate with all partners and clients around the world for effective communication.
"Both locally and internationally, we are looking into projects to process platinum group metals such as turbine blade rhenium recovery in the aerospace industry. We are exploring and planning to venture into countries like Sri Lanka, Nepal, Pakistan and Europe. The aim for Vrobal is to become a global multi-billion-dollar business in the next 5 years," expressed Mr Sumesh.
Source :  https://www.articles.asme.org.sg/single-post/2019/01/15/Fostering-a-cleaner-and-greener-environment-with-Vrobal